London's iconic skyline is commonplace in ads, films, TV shows – everywhere visual media is shown. It's an unmistakable, captivating presence steeped in historical and contemporary significance.
For this reason, it makes sense for it to pose as the backdrop for your next brand video or promo. If you're based in or around London, you're spoiled for choice when it comes to settling on a film location.
To make the choice that little bit easier, we've compiled this list of 5 London locations to consider for your next film shoot – all of which are reasonably accessible with the right permissions.
Borough Market
Borough Market is a foodie's dream, and a perfect setting for a lively promo video. It's one of London's most famous locations with a history dating back to the 12th century and has been the site of several films throughout the years, including the Bridget Jones series and Guy Ritchie's Lock, Stock and Two Smoking Barrels (1998).
If you need a bustling location to act as the backdrop for your next video, this could be the place.
Piccadilly Circus
Piccadilly Circus is one of London's most recognisable landmarks. As such, it's a great site that captures the essence of the city. The surrounding areas offer a diverse range of sceneries as well – from Soho to Chinatown to Oxford Street.
Westminster City Council's Special Events & Filming Team handles all applications for street filming in Piccadilly Circus, and your video production agency can apply on your behalf.
Canary Wharf
Canary Wharf's Thames-side setting sits in captivating contrast with the high-rise buildings surrounding it, for an unmistakeably London-esque setting. It's an ideal filming location for leisure businesses and corporate videos alike, and filming on-site is managed by the Canary Wharf Group and The Film Office (depending on the precise location).
The London Eye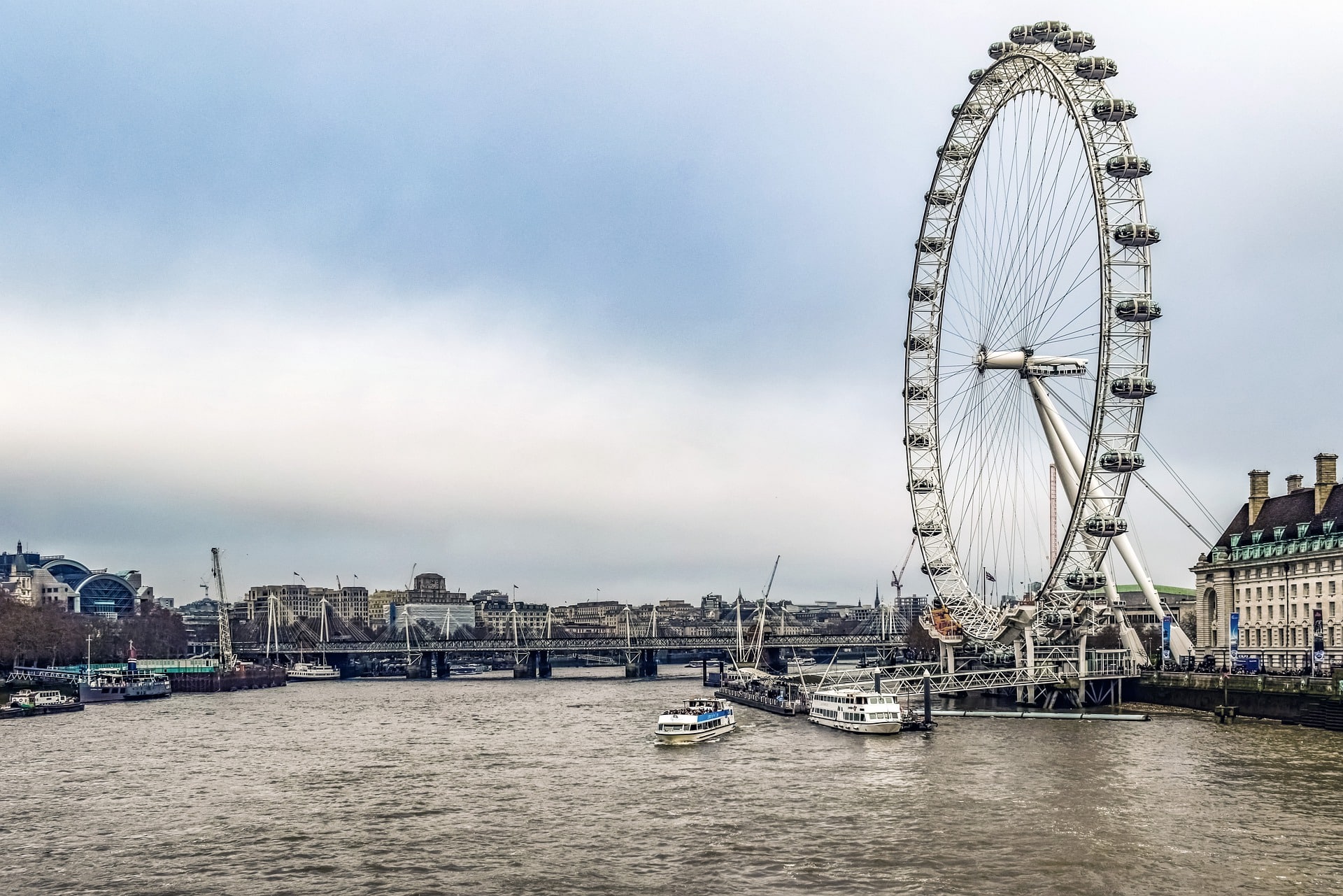 Get a bird's eye view of the city from the UK's most popular paid tourist attraction. An observation deck on the London Eye offers an unparalleled angle over the city, with the breathtaking perspective elevating any production purely by association.
Filming in the London Eye can be arranged by an experienced film crew, and permission comes directly from the London Eye's press office. Needless to say, it's a sure way to set your brand video apart in a spectacular fashion.
Tower Bridge
Tower Bridge is another of London's iconic spots, and no list of filming locations would be complete without it! The unmistakable suspension bridge was built in the 19th century and remains a formidable example of imposing architecture to this day. Using the location in your video production is a great way to showcase your affinity to the city, as the Bridge is a vital route for that infamous London traffic.
The process of gaining permission to film near Tower Bridge will differ based on where you want to position your camera; each exact location has its own governing body. Again, no need to worry about the technicalities here if you have a professional film crew to hand.
Shoot Your Brand Video at an Iconic London Location with Chocolate Films
Are you looking to capture the heart of London in your next promotional brand video?
We're a London-based video production agency with 20 years' worth of experience filming captivating content for our clients. Get in touch today to find out more about working with us on your next brand video – no matter the brief, we'll apply our trademark creative touch and gain filming permission from the relevant body where possible.
Whether at one of these iconic locations or another of London's unmistakable landmarks, we'll work with you to embed your brand in the city and share your story with your audience like never before. See our work to get a feel for how we've helped our clients in the past.