As restrictions begin to lift, we're extremely proud to present our most ambitious lock-down film: A Year in Photos from the Sony World Photography Awards 2021. This is a film that Chocolate Films produced from our London base while the tightest Covid restrictions were in place. The film takes you around the world and reminds you of the beauty and wonder of our planet at a time when we are unable to travel anywhere.
In December 2020, we were presented with an exciting creative brief: to produce a film that spanned the globe showcasing the work of amazing winners in the Sony World Photography Awards 2021. In other years, the photographers' work is exhibited in a major show at London's Somerset House, however the COVID-19 restrictions made that impossible. As an alternate way for audiences to encounter the work, the organisers chose to commission an hour long documentary.
Our response to the brief focused on building and expanding the ideas presented in the images in short 'vignette' films about each of the photographers. From the outset, the clients expressed a 'No Zoom' preference, and given how important the photographic image is for the competition, we wholeheartedly agreed. We envisioned creating a different look and feel for each photographer that built on the themes and content of the work. We wanted to give a taste of the photographers' experiences with extreme locations, drone footage, and more.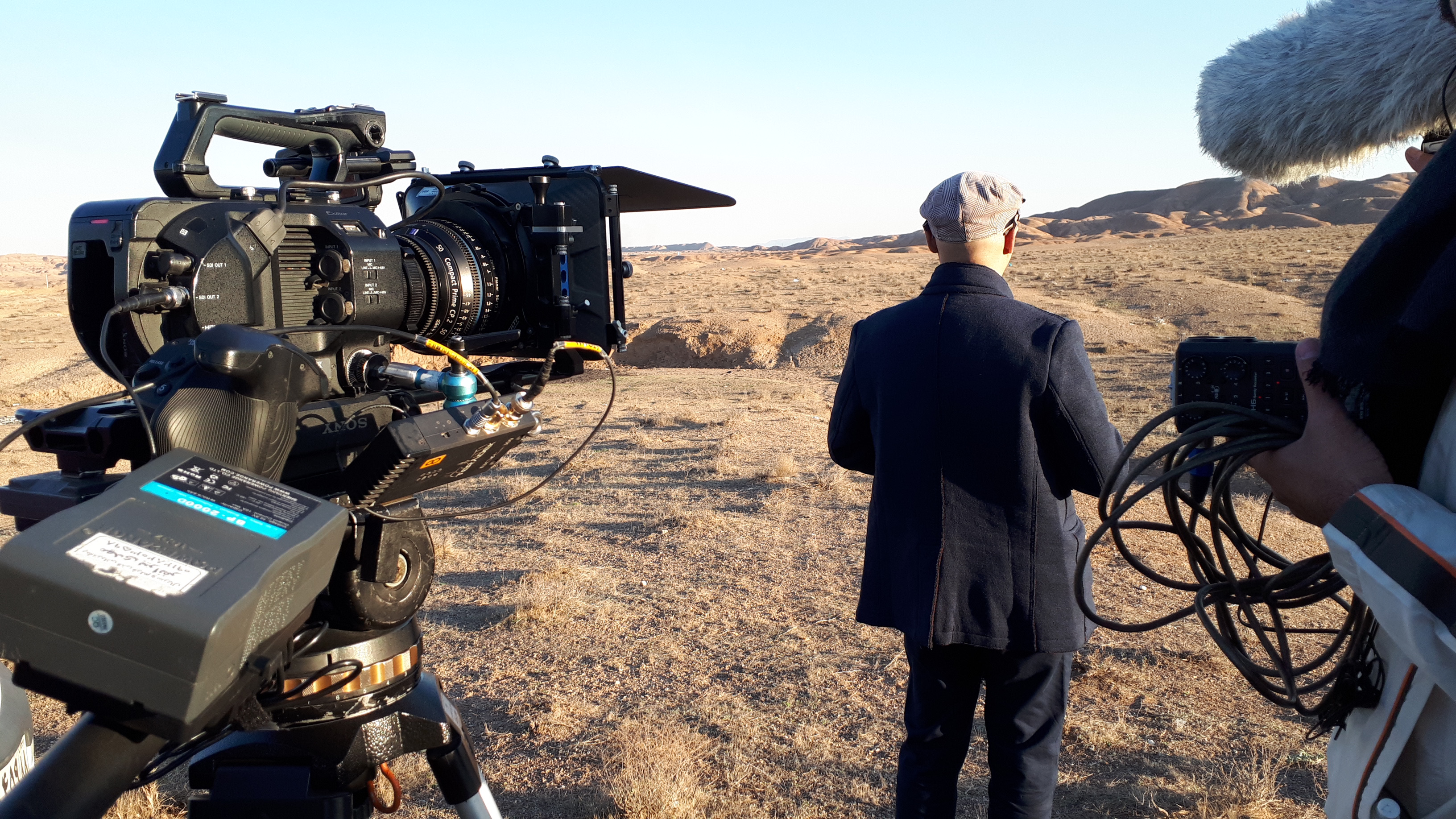 SHOOTING IN IRAN
Chocolate Films were thrilled when we won the pitch in December, and in early February, in strictest secrecy, we learned the names of the winning photographers. Their images were stunning and strikingly diverse. They ranged from intimate to magnificent, using everything from historic processes to experimental digital imaging. The photographers came from such a wide variety of countries countries: Czech Republic, Vietnam, Kenya, and many more. And it wasn't just the winners who were across the world. We needed to film the judges who were everywhere from the USA to South Korea. In total, we needed to shoot in sixteen countries in a time when planes were totally grounded!
Fortunately, in a push to reduce our environmental impact, Chocolate Films had already been developing ways of working with local crews and production companies. In 2019, we had produced content in this way in Nigeria and Pakistan with local crews for the documentary 'Her Life Matters' herlifematters-documentary.com.
We set to work finding local filmmakers that embraced the ethos and style of Chocolate Films with their own relevant experience. We shortlisted and selected filmmakers in each country. We developed style guides and film outlines which were flexible enough for the local filmmakers to put their creative stamp on. And in the most extreme cases, we worked with the winning photographers themselves to generate their own footage. How else do you shoot in Syria in a pandemic?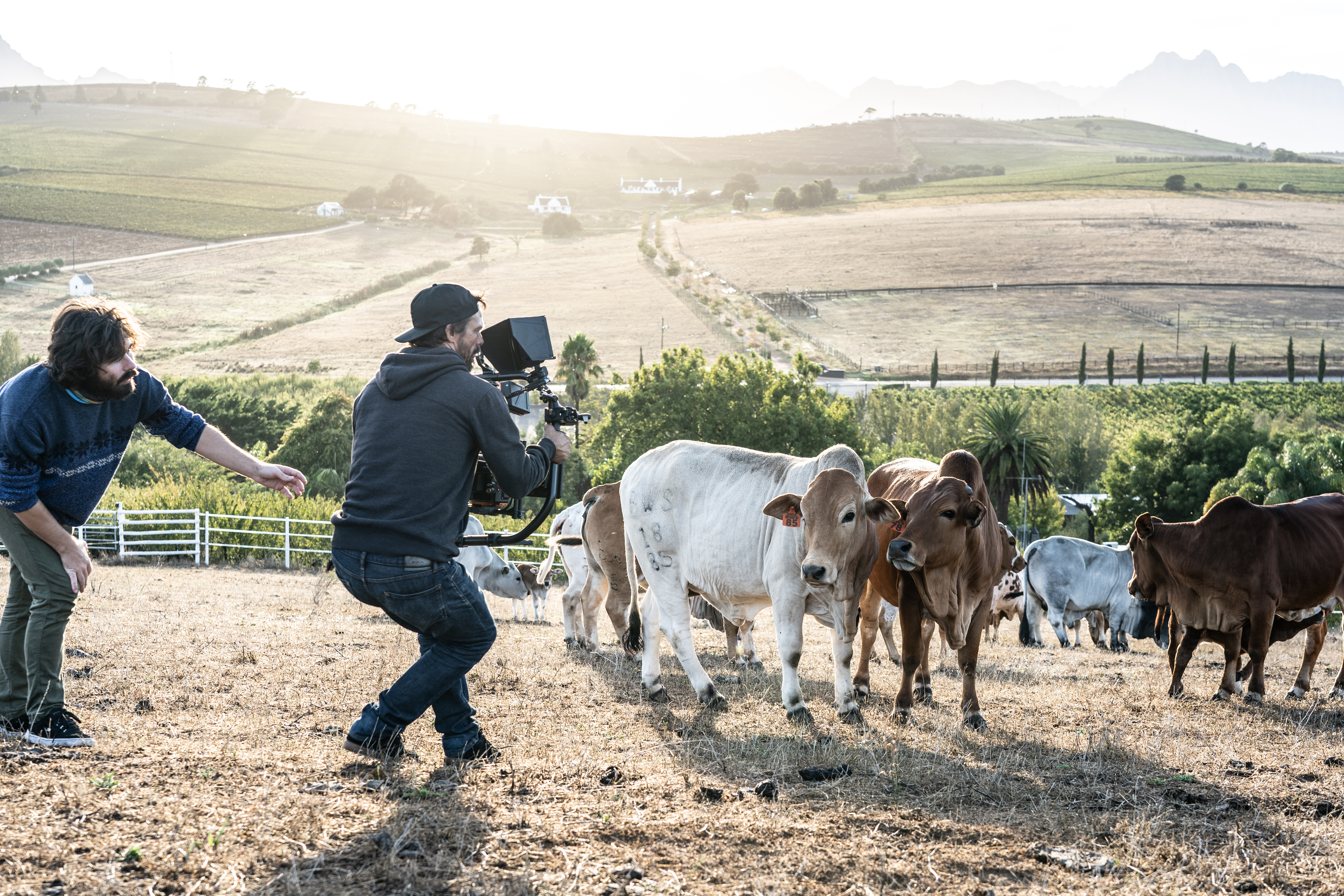 SHOOTING IN SOUTH AFRICA
With everything set up, all sixteen international shoots took place in the space of a single week in February. Simultaneous shoots were happening on a farm in South Africa and on the coastline of Southern Italy. Our wonderful Chocolate Films team even got a piece of the filming action, filming in residential streets in Banktop, Bradford. For the following week, footage arrived in our Battersea offices via FEDEX, Wetransfer, Dropbox. Our editors got to work while our production team set about creating the London shoot.
To contextualise and link the films, we built a small exhibition in Tanner Street in London – if you look closely you'll see that it's the same studio as Dragons Den! Comedian Nish Kumar (Mash Report) and art historian Jacky Klein, shot for two days in socially distanced COVID-safe conditions since the UK was still in full lockdown.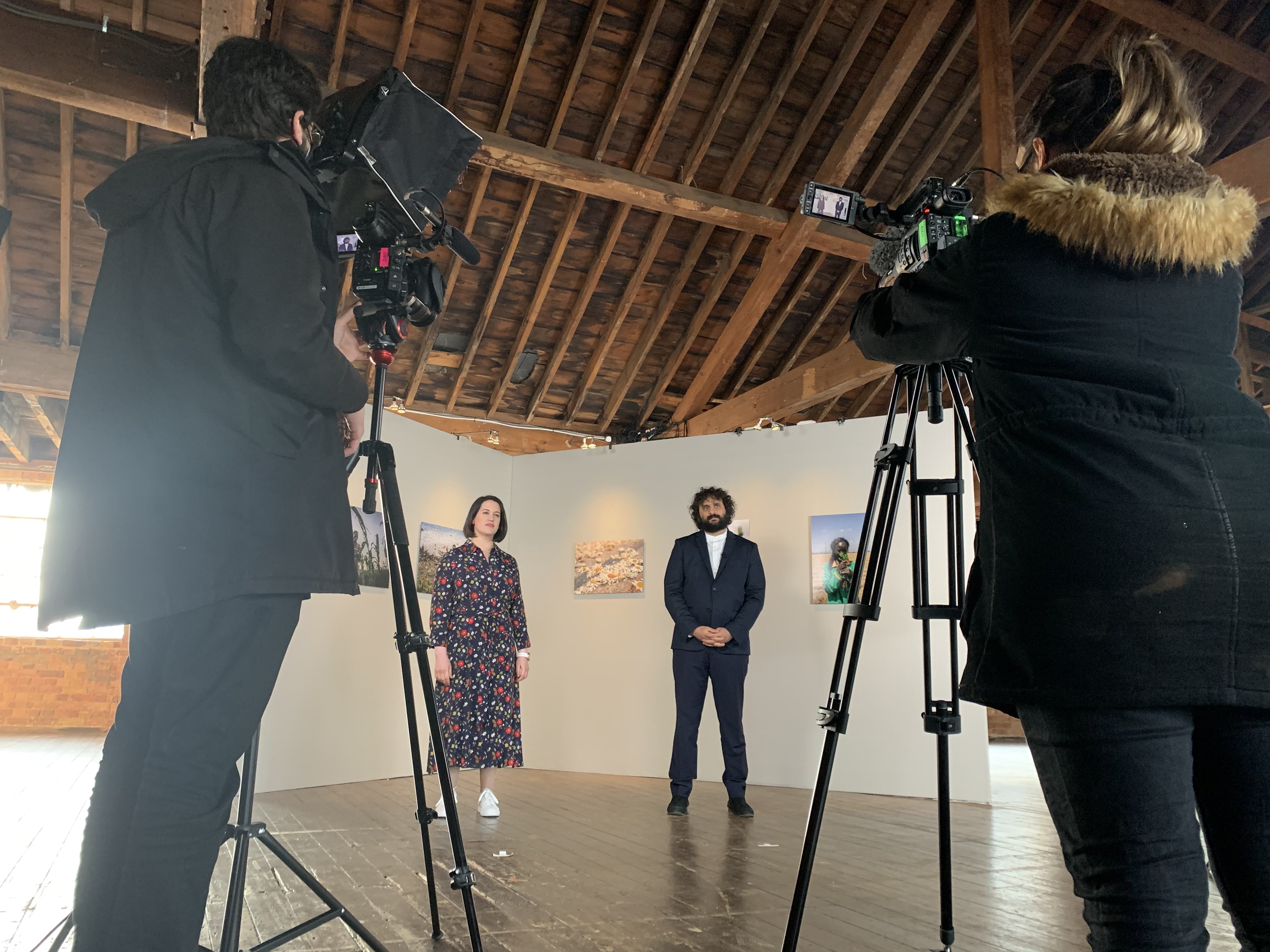 JACKY KLEIN, NISH KUMAR AND THE CHOCOLATE FILMS CREW
Producer/Director; Rachel Wang commented 'because the challenges were so different during Covid-19, 'A Year in Photos' is one of the most exciting documentaries I have produced. The subject matter of the photos are very inspiring and I really enjoyed seeing the world through the eyes of such rich and varied perspectives. Bringing these world class images to life on film was a filmmaker's dream come true! It is an expansive piece of work as it provides an opportunity for international audiences to reflect on the most life changing year 2020 in a unique way. Being able to work closely with filmmakers around the world without the environmental impact of travel was really exciting for us as a production company, and it's something we want to do more of in the future'.
Ania Wadsworth, Operations Director, Sony World Photography Award said: 'Chocolate Films were the ideal partner in helping us realise our vision for the Sony World Photography Awards 2021. Rachel and the team embraced the brief wholeheartedly and rose to the challenge of a complex shoot and tight deadlines with the utmost professionalism, dedication and creativity. We are incredibly grateful to have had their guidance and experience see us through this ambitious process and are delighted with the final results – a compelling, beautifully shot and edited documentary exploring what has been an extraordinary year through the work of some of the most talented photographers working today.
On 15 April the film went live, and to date it's nearly reached 1 million views across various platforms. Do check it out, enjoy it and share it.