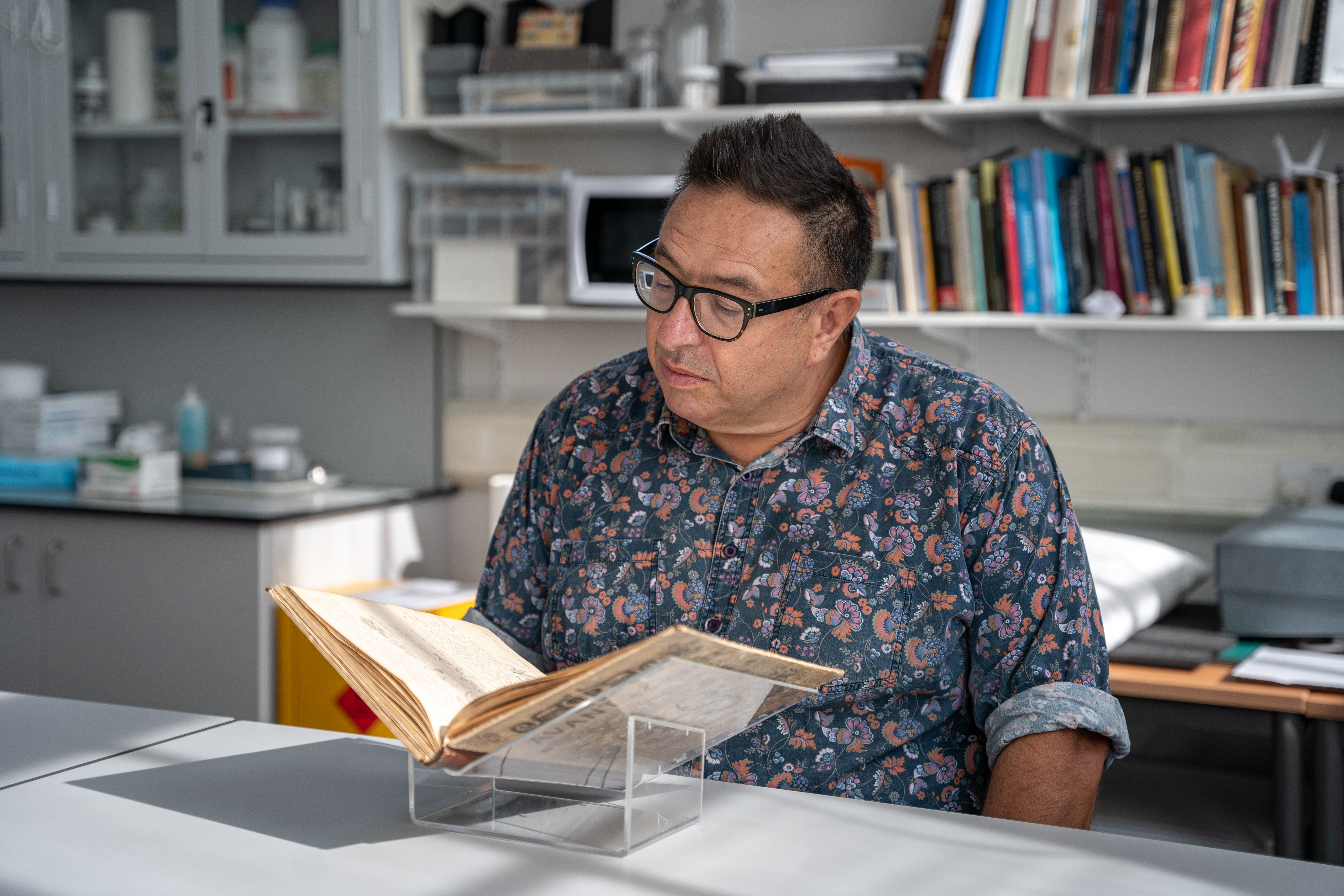 As a filmmaker at Chocolate Films we are lucky enough to work with some of the most interesting cultural institutions and art galleries across London, UK and the rest of the world.
Often we create content which allows the public to engage with culture in a way that would otherwise be close to impossible, creating films which showcase unique behind the scenes moments or in-depth interviews with curators who give new perspectives on exhibited work. This is an enviable role to be in as a filmmaker and I often find myself in disbelief at just how lucky and privileged we are to be getting up close and personal with some incredible pieces of work. None have excited me more than a recent opportunity to create a film on 'Avant et après' at The Courtauld Gallery – the rare and treasured manuscript by French Post-Impressionist artist, Paul Gauguin.
An engaging, beautiful and controversial piece, it is perhaps most famous for being the main source and most detailed written account of Van Gogh's infamous ear-cutting incident, with several pages of the manuscript detailing Gauguin's occasionally fraught relationship with the Dutch artist. The manuscript has been in public ownership since the beginning of the 20th century but has now found its way into the hands of The Courtauld Gallery here in London – a long time partner of Chocolate Films who we are lucky enough to have produced a range of content for over the years.
As the gallery will remain closed until 2021, the manuscript will be digitally scanned and exhibited online alongside a film produced by Chocolate Films featuring interviews with Dr Ketty Gottardo (Martin Halusa Curator of Drawings at The Courtauld) and Dr Caroline Levitt (Lecturer at The Courtauld) who discuss the manuscript's historical and artistic significance.
Filming Avant et après
My colleague Daniel and I were invited down to The Courtauld's home in Kings Cross while the main gallery's refurbishments are taking place. Alongside Waldemar Januszczak, the art critic for The Sunday Times, we made our way to the paper conservation studio, after which Dr Gottardo donned white gloves to leaf through and show us the manuscript.
After speaking with Waldemar Januszczak, Daniel and I were lucky enough to interview Dr Gottardo and Dr Levitt who really gave us a feeling for the manuscript's gravitas and importance. The considered way it was spoken about and handled ended up influencing the way we filmed the manuscript itself – with close ups and detailed macro shots being used to capture and celebrate the intricate detail of the drawings and handwriting.
The shoot done, the footage was edited by colleague Greg in Chocolate Films' Berlin office – creating a beautiful, faithful and informative film for The Courtauld website, along with 9:16 shorter snippets for social media.
Editing Avant et après
– Greg (Chocolate Films Berlin)
Editing a film like this is inherently exciting. Unlike Aziz and Daniel in London, I haven't seen the Avant et après manuscript in person, so when I received their footage I'm re-discovering what they saw in London only a short time ago.
For this film, I was lucky enough to have a detailed script written by my colleague Ross up in our Glasgow office. While the script is invaluable for me in helping to assemble the film, it also helped guide Aziz and Daniel in London, allowing them to be sure that the interview content they captured would be sufficient in helping to structure the film and informing the kinds of shots they captured of the manuscript itself.
Using the script as a sort of roadmap, my first task with a project like this is to go back through the footage captured by the team in London and start making selects and organizing these with keywords as well as 'in' and 'out' points. Aziz and Daniel did a great job capturing a huge number of angles of the manuscript itself, giving me a variety of different shot types of the outside cover and the material inside, as well as numerous takes of the curator opening and closing the book – so I had more than enough to choose from. Once I was familiar with the footage, I rewatched the interviews with Dr Gottardo & Dr Levitt and begin to organize and label which parts I thought would work best for inclusion in the film. Aziz and Daniel did a great job of making both interviewees feel at ease, capturing a variety of clean takes to ensure that online audiences would be able to appreciate the significance of the manuscript in a relatively short runtime.
Once the rough cut had been assembled it was shared both internally and with our partners at The Courtauld Gallery for their feedback. The deadline was only a few days away so this was a speedy process meaning we had a version that was ready to be shared with the world in a matter of days.
Wrapping up the project
One thing I love about video is the ability to showcase stories, people and art in complex ways that the public usually wouldn't have access to. While that day I was one of the lucky few to get up close and personal with Avant et après, I hope the final film puts you in the room with us, and allows you to experience the piece in a way that you couldn't have before.
Check out the film on The Courtauld website now: https://courtauld.ac.uk/gallery/avant-et-apres