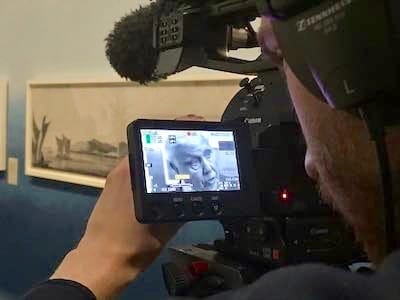 At Chocolate Films, we have streamed everything from a panel discussion at a conference to a play in a theatre. Looking back at the last 20 years, we have seen an increase and a stronger interest in live streams. Especially in recent years, live streaming has become more and more popular. 
The COVID-19 pandemic, which necessitated widespread adoption of digital interaction, has without a doubt left a lasting impact on live streaming. 
At the same time, advancements in technology (improved cameras, faster internet, etc.) have elevated production quality. Digital platforms such as Twitch, Zoom, and TikTok have given content creators a place to interact and get a closer connection with their audience. Live streaming is now a dynamic and influential form of online entertainment and communication. 
In this blog, we will discuss how live streaming has impacted the video industry and made broadcasting methods much more accessible for businesses of all sizes. 
What is live streaming? 
Live streaming is a real-time digital broadcast of audio or video content over the internet. It enables individuals or organisations to share live events, performances, discussions, or experiences with a global online audience. Viewers can interact through comments and engage with the content in real time, fostering a sense of immediacy and connection.
In 2022, we were commissioned by Evergreen Arts and The Royal Norwegian Embassy to stream their launch event for the Sami Pavillion at the Nordic Pavillion of the Venice Biennale. The event took place at the ICA (Institute of Contemporary Arts) in London. 
We filmed a panel discussion where we had one participant appearing via Zoom. This worked well and the participant was able to engage with the rest of the panel without any more difficulty than if they had been there in person. The output was streamed on the Office for Contemporary Arts' streaming channel and after the event available to watch online to reach a wider audience. 
Live Streaming vs Live Broadcasting
Live streaming is a fantastic tool for a business to reach a much wider audience. Compared to traditional live broadcasting, it is more cost-effective, more accessible through various platforms, and fosters direct interaction with audiences. With live streaming, you can engage viewers in real time, showcase products, host Q&A sessions, and build a loyal online community, all while reaching a global audience instantly. 
Live streaming is not only beneficial for a big global business. If you are a small business that is hosting an event but does not have a big venue available, you can easily stream your talk or panel discussion in a smaller studio and have all the right equipment accessible for high-quality streaming. 
You can also keep the recording after the event and share it on your website. Or edit it into smaller social media clips for marketing purposes. This can be used to promote future events to attract and engage new people. In that way, you not only interact with the live audience but will also reach an audience who were not able to attend the live session. 
How to get the most out of livestreaming for your brand  
It is important to set up a strategy to maximise the benefits of live streaming for your brand. In doing so, it is worth looking at the following: 
Content Planning:

Define clear goals and target audiences. Create engaging and relevant content that aligns with your brand's identity and values.

Promotion:

Promote your live streams in advance through social media, email marketing, and other channels to build anticipation.

Engagement:

Interact with viewers in real-time, responding to comments and questions. Foster a sense of community by addressing individuals by name.

Innovation:

Experiment with different formats, such as behind-the-scenes tours, product launches, or live interviews to keep content fresh.

Analytics:

Track metrics like viewer numbers, engagement, and conversions to measure success and adjust your strategy accordingly.

Collaboration:

Partner with influencers or other brands for co-hosted streams to expand your reach.

Call to Action:

Encourage viewers to take action, such as signing up for newsletters, making purchases, or sharing your content.

Quality Production:

Ensure good lighting, audio, and video quality to maintain a professional image.

Repurpose Content:

After the live stream, repurpose the video into shorter clips or highlights for continued engagement on various platforms.
By implementing these practices, your brand can harness the full potential of live streaming to build a stronger online presence, connect with your audience, and drive business growth. 
How to prepare for your live stream
We always do a technical recce ahead of the live stream. A recce means that one or more of our filmmakers will go to the venue to ensure everything works (such as an internet connection that will be robust enough to support live streaming) and if there is anything the crew needs to be aware of before the live stream. 
Depending on the size of the live stream and the format, we will allow at least one or more cinematographers, a stream technician, a livestream director, and a sound technician. We will have multiple cameras filming from different angles and a professional lighting kit as well as switcher and cabling for streaming. We will also have a PA system with an inbuilt mixer plus stands and cabling and mics if needed. 
Our in-house team will guide and suggest solutions that fit within your budget so you reach your target audience and get the most out of your live stream.
Set a strategy that works for you
Not sure where to start? There are a lot of things to think about when it comes to live streaming, but no need to worry. We are well-versed in live-streaming for events and have used it for multiple events that we have worked on in the past. So we will be more than happy to work with you to create a strategy together. 
Get in touch with us today and we will schedule a meeting to discuss this further.