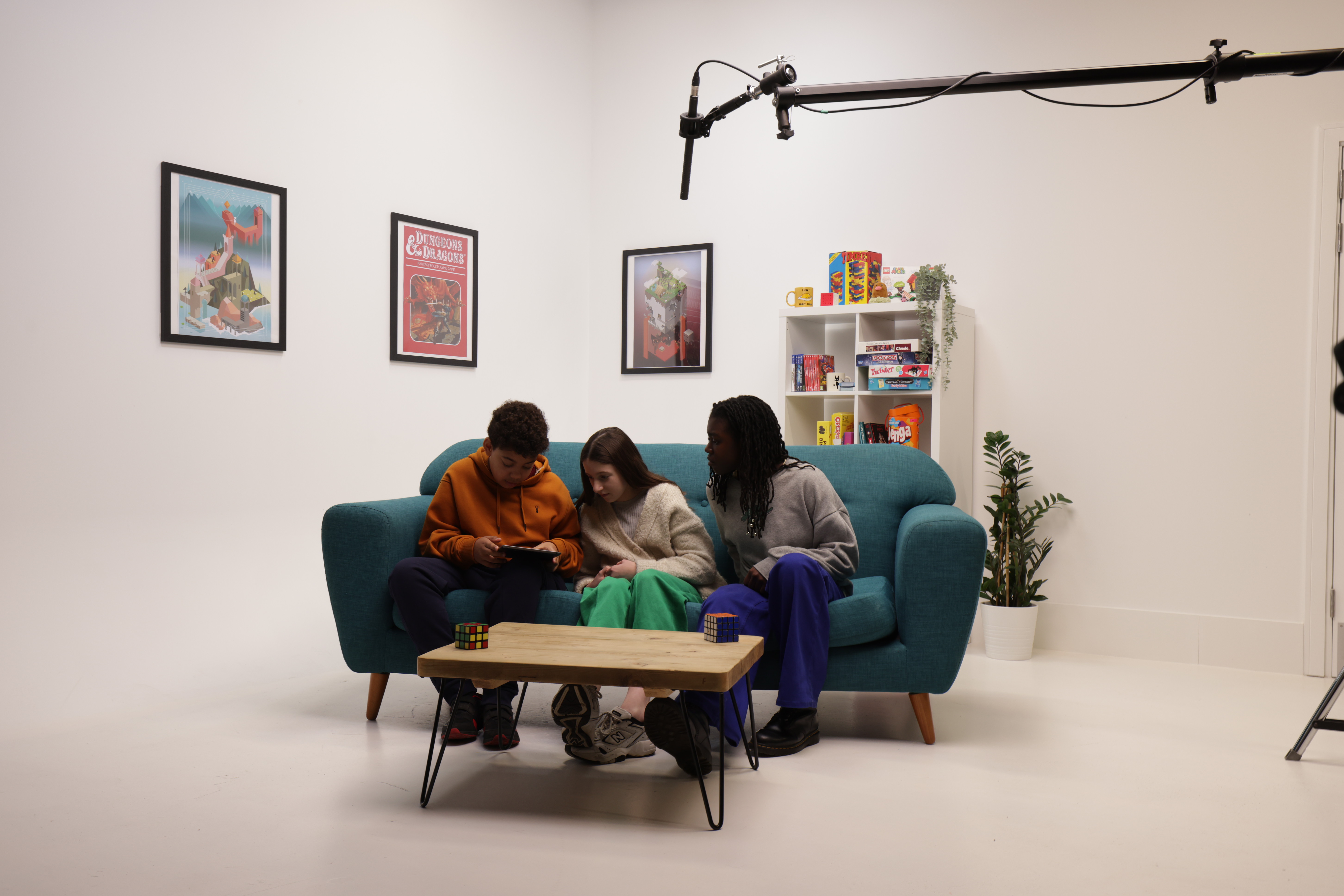 Chocolate Films produced multiple AV pieces for the Young V&A as part of their new permanent exhibition. We asked one of our filmmakers, Philippe, about his experience creating a fun and insightful film about video and board games. Scroll down to read his thoughts. 
Through the eyes of a filmmaker 
I first overheard our producer, Anna, mention that we would be making a film for the Young V&A which was scheduled to have its grand opening in June 2023. The theme of the film was Games (board and video) and that immediately piqued my interest as I spent a big chunk of my time growing up playing board games and video games.
The film was to sit at the entrance of the Games exhibition and to serve as an introduction of sorts. The film was pitched as having the screen divided into several parts, with moving tiles, like an animated Mondrian. 
Research and script development
I went ahead and started researching and scripting the project. We were given certain directives, such as which games were to make an appearance, or which contributors we had access to. From there I subdivided the film into three distinct sections. One for each of what we thought were the foundational pillars of gaming: design, rules, and story.
Step one 
We had a narrative structure to the film and now had to decide what to fill it with. There were quite a few drafts that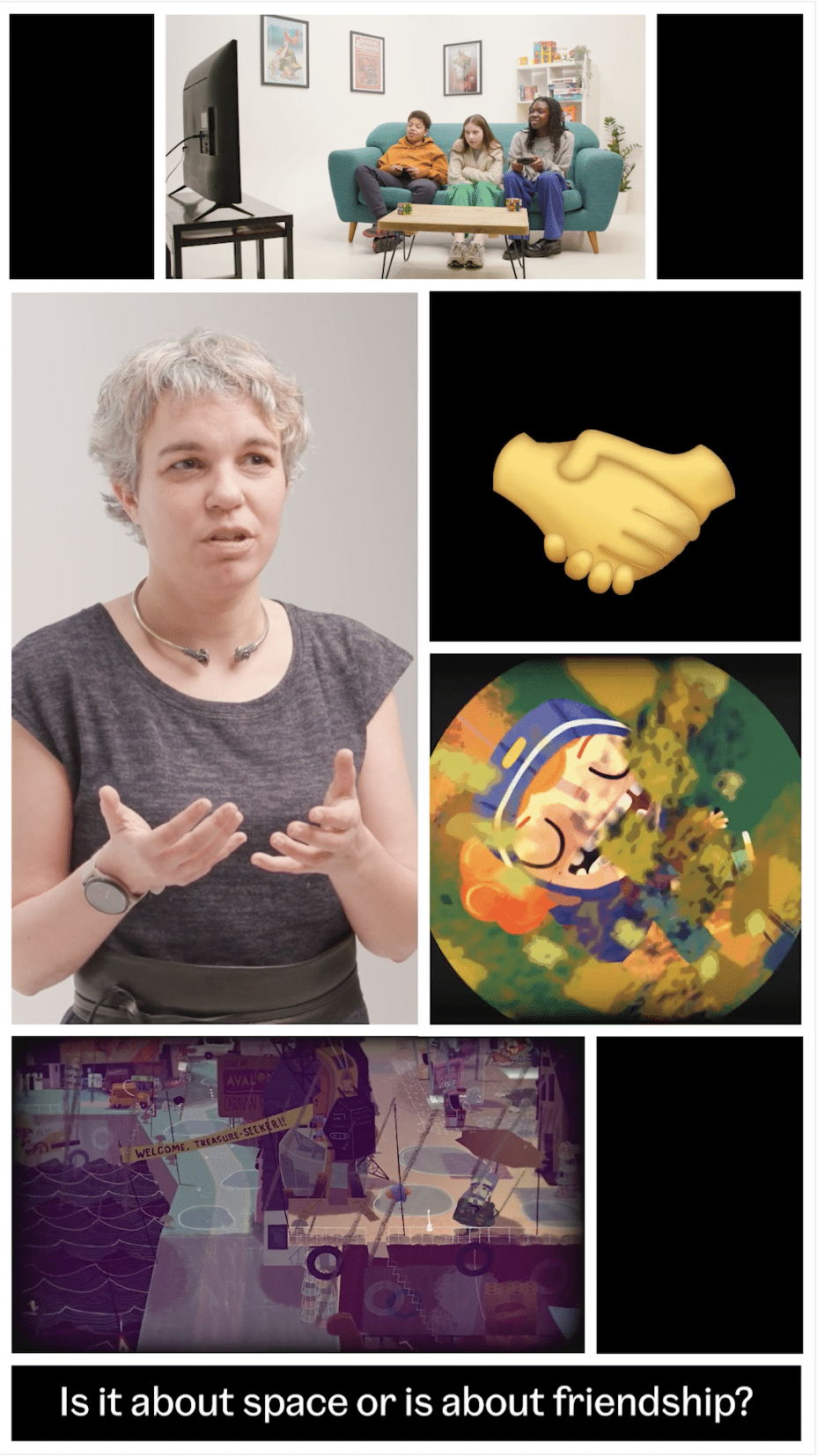 were bounced back and forth, both internally and with the client. It can be a bit tricky writing scripts for projects like these, much like documentaries, where it is hard to predict what people will say once you get them in front of the camera.
They can go in a completely different direction than what you expected. Or they tell you outright, though with good intentions, that you are wrong. So part of the job is being extremely flexible, both in the script and during the interview process as well as being able to adapt.
Step two
Once we had the narrative structure and we knew what to fill it with, we had to decide how to portray that visually. The big challenge here is that it was going to be quite a busy screen already. With several tiles, each playing different videos. Not to mention that the film would be displayed in a busy environment, so we had to dedicate part of the space to subtitles, and part of the space to on-screen text which highlighted certain keywords of the interview.
We knew we wanted experts to come in and give important information to camera and we also wanted to see children playing the games to which the experts were referring. That did mean that aesthetically we wanted the shots to be quite minimalistic, to not add to the clutter. The experts would be filmed against a white background with a gradient. The kids would be filmed in the same environment but with a bit more going on. We dressed the set with posters and a bookcase, but we still wanted it to feel like a studio environment. We wanted it to be less like we are in someone's living room, and more like we are on a set for a YouTube show.
Step three
With preparation done, we were ready to shoot the video. When it came to the experts the setup was simple – two cameras, one soft key light, no fill, no hair light. Just another light to help make the wall into a gradient, going the opposite way to have a bit of lighting interest. The focus here was mainly on getting them to say something good. Which they did really well. They were all great.
The following day we filmed the kids playing games. That was a bit more complicated as it involved four or five different cameras running simultaneously and pretty much continuously, as well as screen capping the games they were playing. The kids were also great and we managed to capture genuine reactions from them.
Step four
Our talented in-house motion graphic designer Tom and I had done a sort of sizzle reel/pre-vis which had come out really well. Tom had
 set up a great After Effects template to work in, which helped us navigate all the footage we had. After weeks of work, we got to a stage where the project was looking good and we got into a good workflow.
We sent the final edit and the next time we saw it was at the grand opening! Seeing the final product at the grand opening of the Young V&A was an amazing experience. We got to meet the curators in person and see the contributors again. They really did such an exceptional job with the museum and it's an honour to have been a part of it.
Final thoughts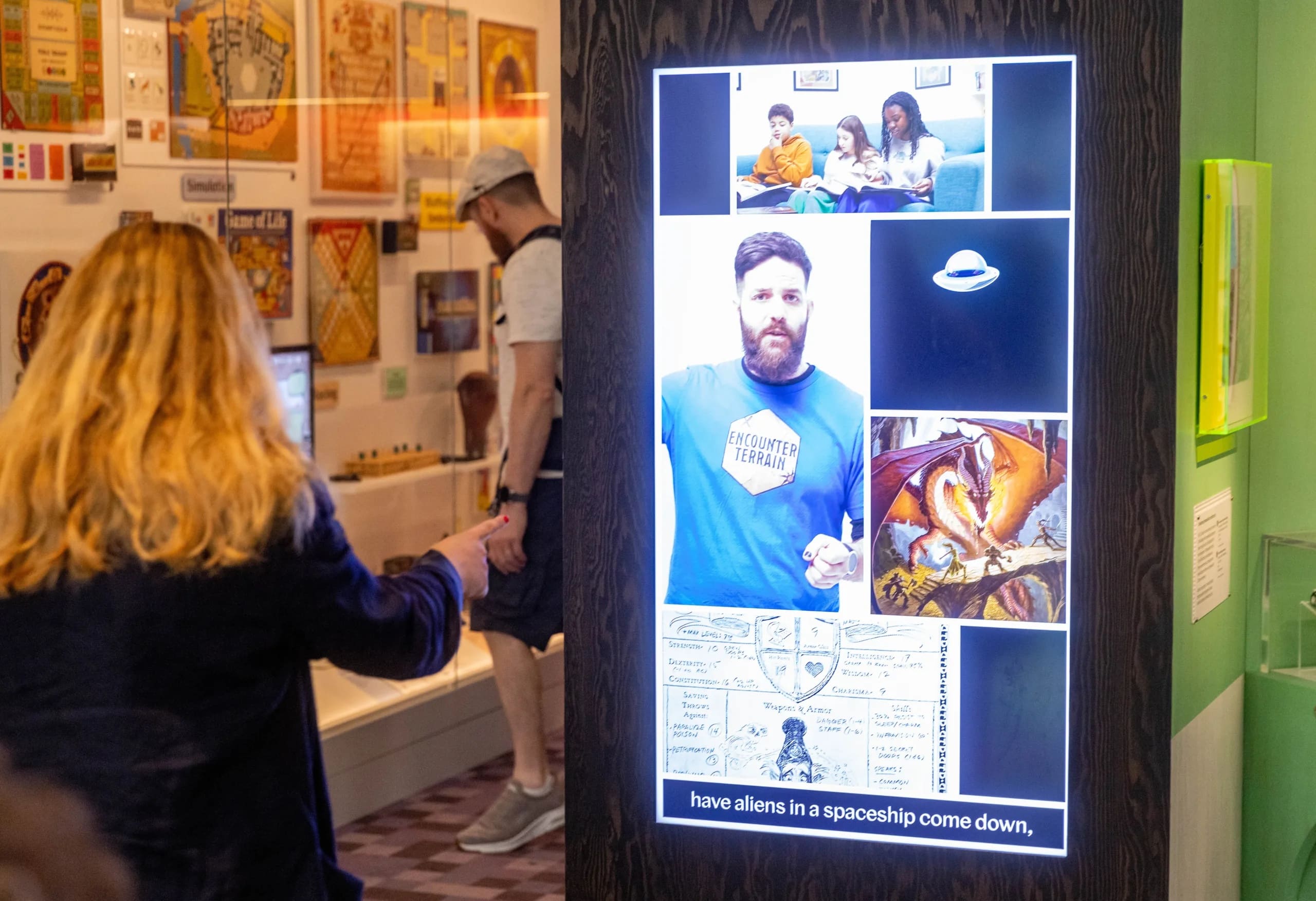 I think this project quite perfectly encapsulates what it is like to be a filmmaker. You rely heavily on the rest of the team and defer to their wisdom when they know better. You plan as much as you can, but still, you have to adapt and be able to pivot the structure or narrative if need be.
At times it can also be a bit of a humbling experience as what you think might have been straightforward was actually quite challenging. All the while you keep your cool and you keep learning.
Read more about the Young V&A's new permanent exhibition on their website – or why not go and see it in person? It's just next to Bethnal Green Tube Station, and you get to see this exhibition film and many more!